Formidable, blue waves rolling in from the expansive Pacific Ocean. A leisurely bicycle ride along a winding river alive with jumping fish. Brilliant rays of sunlight bouncing off the Spanish Colonial style structures of downtown Santa Barbara. This sounds like the makings of a great story right? Well, not really. But our short time around the city was nice and relaxing—just what we needed after the Grand Canyon fiasco and a night in the desert.
Before I get started, let me acknowledge that it has been quite a while since I last posted an article. I mostly blame school in the way a young boy might blame unfinished homework on a dog's appetite. I honestly just didn't do it. The real reason I have struggled to write about Santa Barbara is that nothing notable happened to us there. We camped in a pretty forest, grilled burgers, rode bikes, walked around downtown, and told ghost stories around a fire. But don't let that turn you off to our stay in Santa Barbara. The city has some pretty cool stories of its own that encapsulate its history into a small series of artifacts and events.
On Santa Rosa Island, just off shore from Santa Barbara, Phil C. Orr made a discovery that actually predates history. Around 1960 he uncovered remains from an archaeological dig of a man dated to have lived over 13,000 years ago. Originally dubbed the Arlington Springs Man, the name was once altered to reflect studies showing that the remains were a woman's, and she became known as the Arlington Springs woman. However, in 2006 further studies concluded the bones were more likely to have been a man's, so the name reversed again. Either way, the remains are believed to be among the oldest found in North America and support the theory that seafaring nomads migrated from Asia and traveled down the Pacific Coast.
Skip ahead to 1542. Hunter-gatherer Native Americans known as the Chumash occupied the area for centuries, but their world changed forever when the first Europeans arrived. Joáo Cabrilho, a Portuguese explorer led the first Spanish expedition through the channel of islands. He died from gangrene brought on after injury suffered while fighting natives and was buried on one the islands. "Santa Barbara" did not become the name of the place until 1602 when a Spanish explorer survived a terrible storm on the eve of Saint Barbara's feast day; he named the channel and one island out of thankfulness.
In 1769 the Spanish began operations to occupy and fortify Alta California from other imperial powers. Soldiers arrived in 1782 to begin ten years of construction on El Presidio Real de Santa Bárbara, a fort to defend the settlement and the later-built local mission—Mission Santa Barbara—from threatening natives and other powers. Although most of the structure was destroyed in various earthquakes, the Presidio still holds the title of second oldest building in California. It is also the last military outpost built by Spain in the Americas.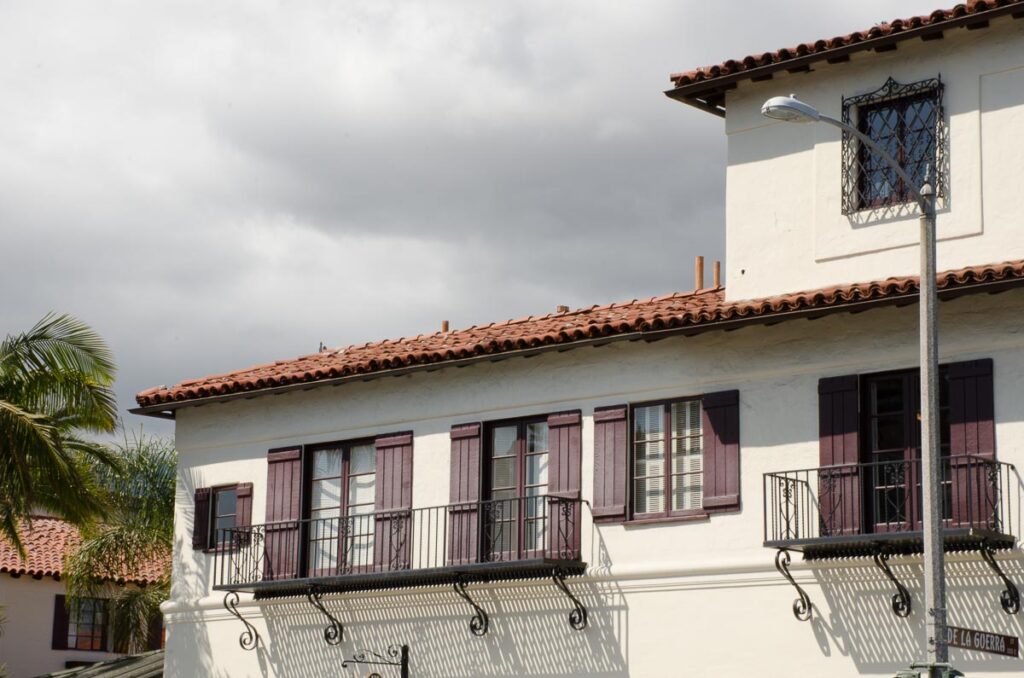 Santa Barbara mostly avoided violence during the Mexican War of Independence from Spain. More impressively, they cleverly managed to escape destruction when French privateer Hippolyte de Bouchard threatened to attack. Bouchard commanded two frigates and was employed by Argentina to demolish Spanish assets and resources. When Santa Barbara cavalrymen caught some of Bouchard's men who were wrecking a nearby ranch, Bouchard threatened to shell to the town if his men were not returned. Having seen hundreds of patrolling cavalrymen before his crew members were released, Bouchard decided to sail away without attacking. What he did not know is that the hundreds of men were actually only a few who rode in a huge circle and changed costumes every time they rode behind dense brush. Santa Barbara peacefully assimilated under Mexican rule when Mexico gained their independence. Later the settlement became part of the United States without violence during the Mexican-American War.
After annexation to the U.S., the gold rush sparked a more exciting, violent, and virulent time. Outlaws, gangs, and chaos enveloped the small town and promised infamy to the most fiendish criminals. Criminals such as Joaquin Murrieta, the fabled Zorro of the movies. He and other bands of men were known to ambush travelers near the city, killing them and taking everything they carried. One Jack Powers, the leader of a local gang, claimed infamy when he and his men drove away a posse citizens 200 strong that sought to force him away from Santa Barbara. The story goes that he was eventually murdered and tossed into a den of wild boars sometime after being driven away by armed men from another town.
The 1925 Earthquake stands out as the single most destructive event in Santa Barbara history although earlier earthquakes may have been just as devastating if the amount of infrastructure had been the same. Many buildings crumbled during two large aftershocks and a fire even broke out to ravage more of the town. This event is the reason Santa Barbara now has the unified Spanish colonial style buildings for which it is known. Several politicians agreed on the style while Thomas Storke—a prominent lawyer and newspaper publisher—argued that it was an unconstitutional move on property owners. He later changed his mind. In an unrelated incident Storke won a libel case against his publishing rival and took over his foe's business as well to form a media monopoly over the town. Eventually he was elected to the Senate.
I didn't know most of this while I was actually in Santa Barbara, but Daniel, Peyton, and I did get to see the Presidio. The town is saturated with history, and if I get the chance to back, I plan to take full advantage of its historical sites and museums. I wrote this article from information found on various Wikipedia pages, so it should be noted that while the articles cited reputable sources, all of the information may not be completely accurate. To read the article I gathered information from, follow this link.