After spending two weeks on the road and before embarking on the final leg of our journey, the guys and I spent two nights in cities to rest up and enjoy good company. Leaving the gorgeous Oregon coast was hard, but knowing that Portland was the next stop made our departure easier. Since Portland is well known for its trademarked Northwestern outdoorsyness (it's a word if I say it is, auto-correct), we actually bypassed the city and drove to a little bouldering spot about 30 miles to the east.
Trusting the website, we pulled off the highway to find a country road that turned into a forestry road and parked in front of the specified gate. While I rallied up some camera gear, Peyton and Daniel stepped out to look around and noted the directions on the friendly climbing forum were decidedly sketchy. Unfortunately they proved to be at least inaccurate because we only found one minuscule boulder, barely worth shoes and chalk.
Anyway, feeling duped, we headed back into Portland to meet up with my friend Richard who was extremely kind to offer up his living room to us last minute. We hoped for a local perspective mixed with some "must-do" touristy attractions, and Richard delivered with a specialized tour only available from one who knows what is cool but still appreciates what is corny.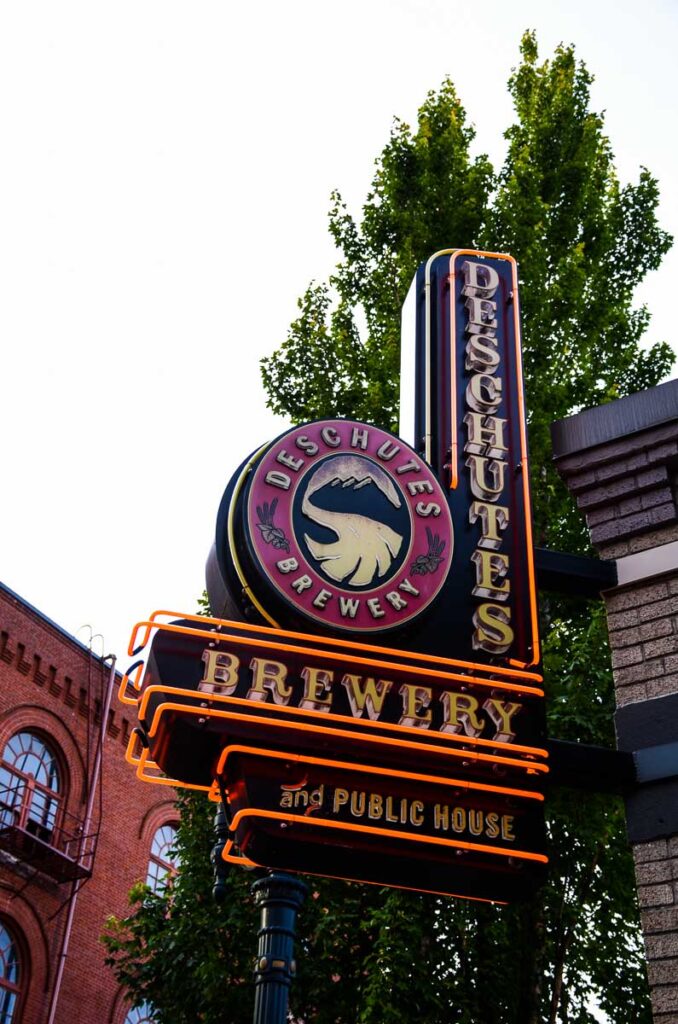 To begin, we took the train from his apartment to downtown and walked to Deschutes Brewery for a mouth-watering dinner. In true Portland fashion, everything was local. My elk burger was divine, definitely the best meal up to that point in our trip. Richard then took us to the "Keep Portland Weird" sign, which didn't have a line sprouting out from it, and pointed out a few places we should check out the next day when they opened. To end the night on a high note, he took us to the famous Voodoo Doughnuts. To paraphrase Richard: there are better doughnut shops in Portland, but Voodoo Donuts is an experience you have to have at least once as a visitor.
We took ours to go, hopped on the train, and chilled on the rooftop patio of Richard's apartment building. Overlooking Portland's dazzling lights, we chowed down on various doughnuts (mine was covered in Cocoa Puffs) and talked about whatever.
The next day–the day before our departure to Alaska–we decided to hangout in Portland for a bit to visit Richard's recommended stores and check out the amazing food stands. I found a tiny leather-bound journal at Made Here to take back to Emily as an adventure planning book. We passed Powell's City of Books but decided not to go in. Instead, we spent our remaining time reading menus on about 60 food carts. Maybe I should have chosen lunch from one of the many amazing ethnic food options, but something about "The Cheesus" just reached out to my American spirit. Two greasy grilled cheeses as buns on the juiciest burger I've ever seen, and I couldn't resist. After devouring a heart attack, I was ready to hit the road and find our next mountain bike park in Seattle.