Rolling amber hills stretched out before us as we coasted through the desolate Southern California interior between Santa Barbara and Yosemite National Park. Daydreaming most of the drive, I awoke once to look out over the expanse and find a lonely farmhouse perched atop a mound about a mile off the highway. I wondered who lived there, what that life was like (so isolated from other people), and why it was vacant. Sadly we had no time to stop and explore and continued our drive through rural California where we eventually came upon mountainous areas.
The day wore on and eventually faded to evening. I clung desperately to my seat while Peyton sped around precarious corners along the mountainside approaching Yosemite. (Later I proved to be no better of a driver, swerving down winding roads in the coastal redwood forest so fast that both Daniel and Peyton nearly became sick.)
When we arrived at Hodgdon Meadows, dusk permeated the campground, and the dark clouds were only just beginning to release a steady drizzle. But it was pouring by the time we set up tents and moved our food into the bear locker. Luckily I was able to string a tarp over the picnic table while Daniel and Peyton started a fire underneath it. We sat under the tarp and ate our standard camp dinners of rice, beans, and canned meat while the flames fought back the cold, rainy night.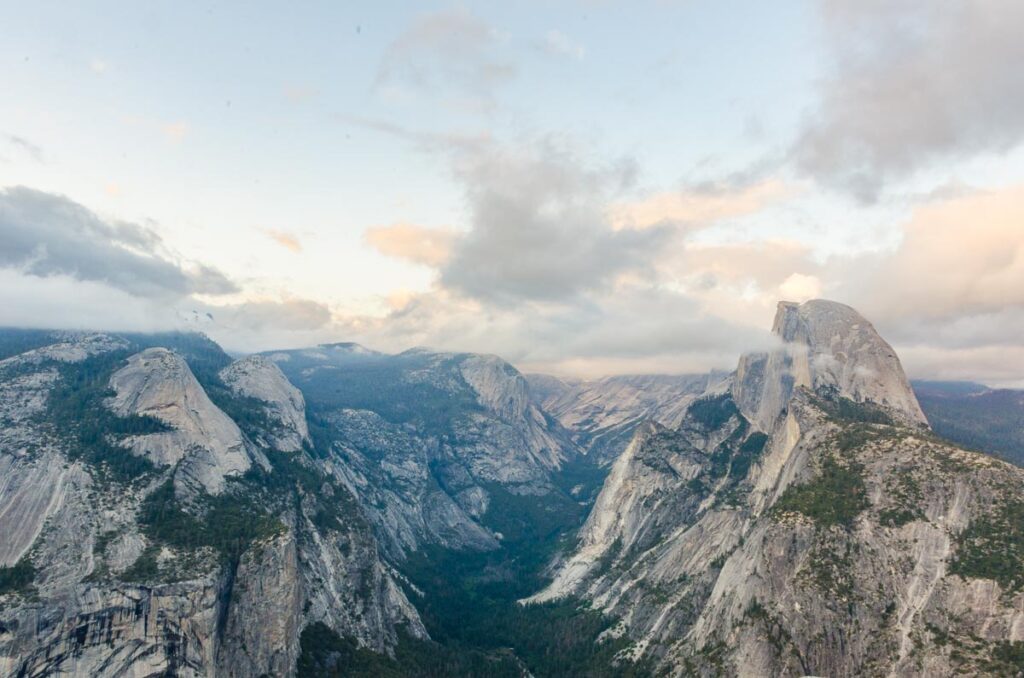 From the moment we began planning Yosemite, I knew I would have to visit again when I could devote more time to the park—maybe two weeks or more. Because of this, we planned Yosemite fairly loosely and deliberately avoided packing too much into our two days.
Hodgdon Meadow is located about 45 minutes out of the main valley, so we set out fairly early to find a ranger station. We got a couple of free maps and received advice on where to find boulders for a little climbing. Most of the problems in Yosemite are far too advanced for beginning and amateur climbers, but we decided just seeing the areas where so many climbers had cut their chops would be interesting. For those who haven't climbed, a problem is a short climbing route on a boulder that typically ends 12 feet or so off the ground.
The road into the Valley wound around steep rock faces, between towering redwoods, and through dark, narrow tunnels. When El Cap, Cathedral, Sentinel Dome, and Half Dome came into view, the feeling was similar to being star-struck. We gazed in awe at the massive monoliths surrounding us as we drove to Camp Four, a famous hangout and bouldering location for some of the world's greatest climbers. For a couple of hours we explored the small area and clambered up whatever boulder problems we could. Peyton eventually gave up on the rocks and climbed a tree instead. After scarfing down packed lunches, we set out for a new location. During a long search marked by discussions of which tree was the biggest we had ever seen, we came upon some climbable problems in the Half Dome Village area and spent another hour scrambling around the rocks.
Finding problems on our level was difficult, but our real challenge of the day was finding showers. At that point our last ones were at the Grand Canyon, about five days previous. Obviously there were no showers in the Mojave Desert, and unfortunately neither our Santa Barbara campground nor our Yosemite campground offered showers either. So we decided to try our luck in Half Dome Village. However, we arrived at the shower house to discover the door only opened with a code. Luckily a man saw me trying numbers at random, assumed I had just forgotten the code, and told me the correct numbers. Thus five days become zero and we no longer repelled any living thing within a ten foot radius.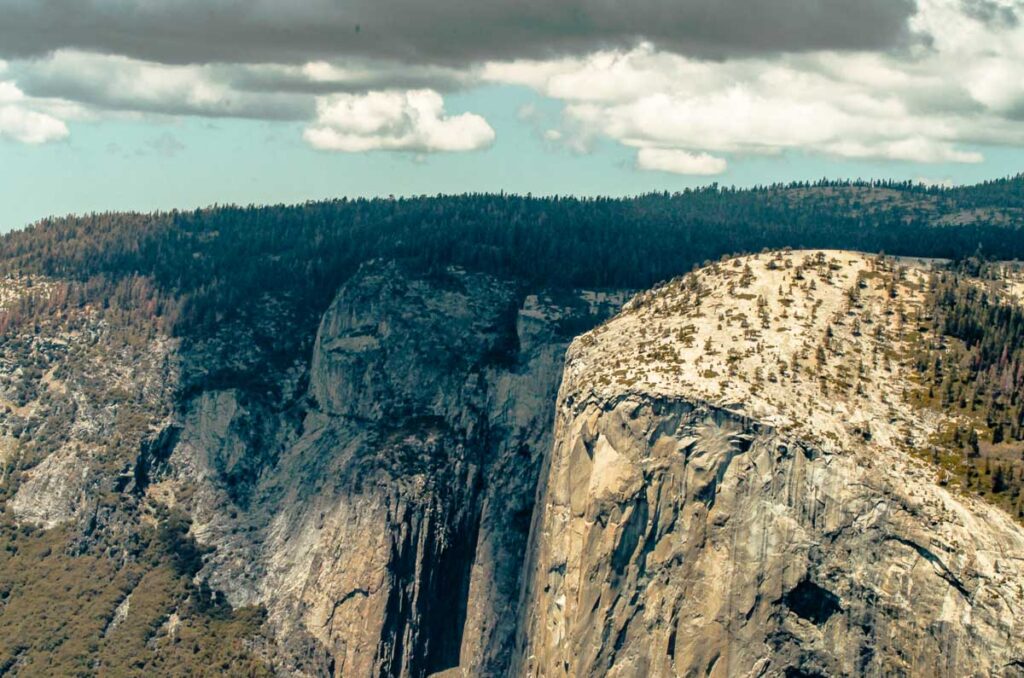 For a solid end to the day, we drove to Glacier Point to experience the iconic view of Half Dome and watch the sunset. Sadly thick clouds shrouded Half Dome for all but a moment of our time there, and a dense haze lay over the rest of the valley. But still, the overwhelming beauty of such a place cannot be dimmed by these mischances.
We began our second full day by driving nearly all the way back to where we had been the night before—blaring 90s country hits the whole time. The hike to Taft Point was short and traversed mud and snow, but it was rewarding. Lying on the sunbathed rocks overlooking the valley transpired to be a brilliant way to pass the morning into afternoon. While at the point, we noticed a small group of people lugging around ropes and other gear. We soon found out they were there to highline across a ravine featuring a near seventy foot drop. If you haven't seen highlining before, it is basically the practice and art of a walking a slackline (like a tightrope but loose) very high off the ground.
When they started I curiously wandered over to join the crowd of onlookers. The first guy, the veteran of the group, walked across and back seemingly easily. However, the second guy was still learning, and I nervously watched him fall off the line several times. A girl who tried later had no better luck. They were all harnessed in when walking, but a feeling of panic pervaded anyway while someone was on the line. That panic exploded and encapsulated even the bystanders when the walker trembled and lurched from the line only to be saved by the harness.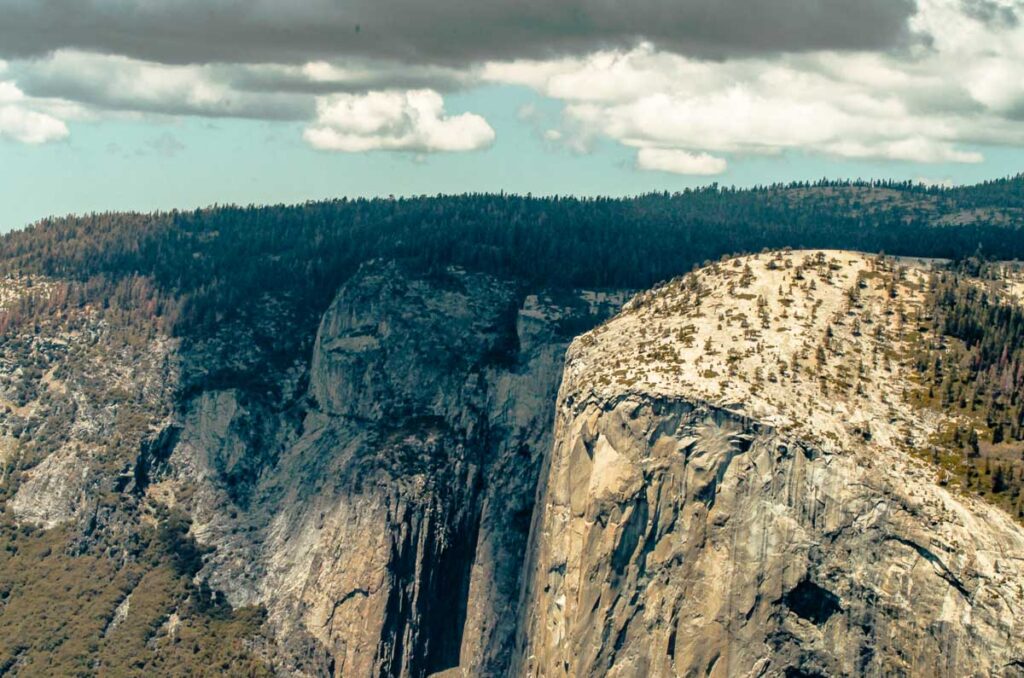 As if that was not enough excitement, an elderly man asked me if I had seen any of the figures climbing El Capitan. I had not, so he let me borrow his binoculars. Lo and behold I watched three guys slowly making their way up the rock face, lugging bundles of gear beneath them. I no longer have a desire to highline, but as those climbers made progress on El Cap, a strong wave of envy overcame me. One day, I would very much like to conquer that climb.
After lazing around at the top of the valley, what could be better than lazing around in the meadow for a new perspective? We parked the truck off the road in front of El Cap and spent the rest of the day chilling in the meadow just taking in the sights and sounds around us. The monoliths staring down from either side, imposing their strength. The mighty redwoods with their contrasting green branches forming windbreaks to leave only a comfortable breeze. We found peace in Yosemite Valley.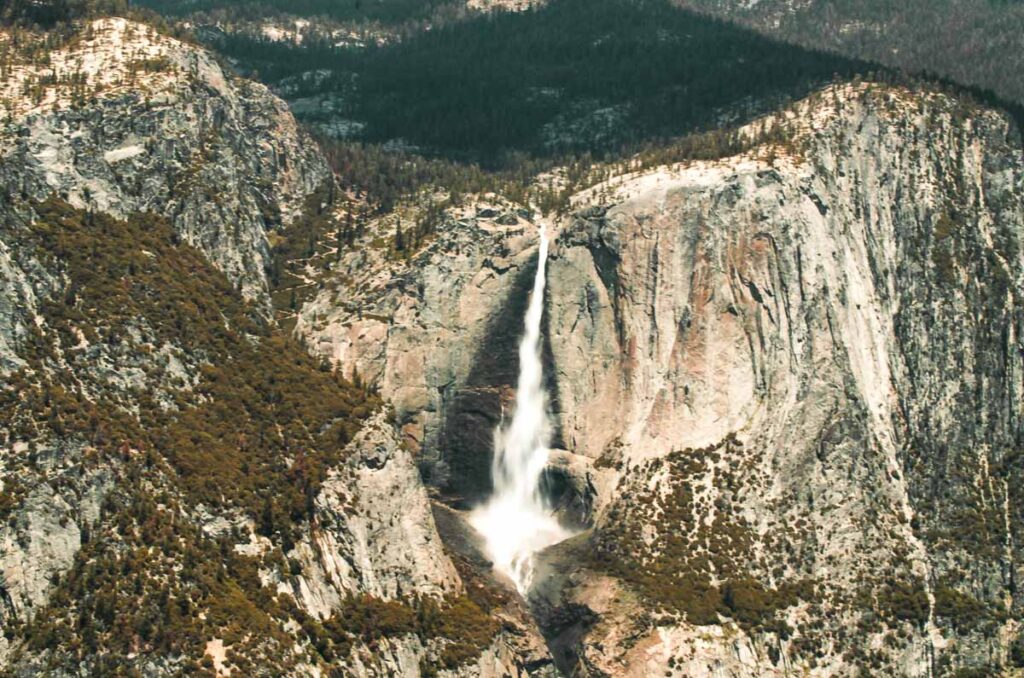 Leaving that afternoon was difficult, but our next campsite was several miles out of the park. The next day promised the Pacific Ocean its storied coastal redwoods.