Daniel, Peyton, and I arrived in Mather Campground close to the South Rim of Grand Canyon National Park late in the evening of May 20 and set up camp in near dark once again. At least this time it wasn't hailing on us like in our previous one night stop in Santa Fe. After a quick camp stove meal, we planned out how we would experience the Grand Canyon the next day and then retired to get the best sleep we could on the hard, cold ground. Our idea was simple enough and was actually a suggestion from a book I read: we would hike down the Bright Angel Trail, 8 miles into the canyon to the Colorado River, eat our lunch, and hike back up.
We were all in fairly good shape, so we judged that with approximately 30 pounds of gear on each of our backs we could make the hike in about 8 hours. Looking back now, that assumption is hilarious and a little embarrassing.
After parking and receiving directions from an old cowboy with an appropriately horseshoe-shaped mustache, we made our way to the trailhead. With a cautious skip in our step, we eagerly began our walk into the canyon with barely a pause to actually appreciate its magnificence from the top. Our first few hundred yards of hiking were marked by a zealous reprimand from a park ranger who saw Daniel stepping up onto a worn path to a restricted "Dangerous Overlook." Daniel unfortunately missed the Do Not Enter sign just before being sternly instructed to stay off the rocks.
Despite several areas under trail maintenance and a hectic, crowded pathway, we reached Three Mile House, a rest stop and water refilling station, rather quickly; I think I spent a majority of that section of twists, turns, and switchbacks with my mouth gaping and my head on a swivel. Viewing the canyon from even just inside offers a perspective that the Rim just can't provide. It's difficult to describe the vastness of the Grand Canyon at all, but it's even harder to describe the feelings that arise from looking up at its walls while also peering into its depths.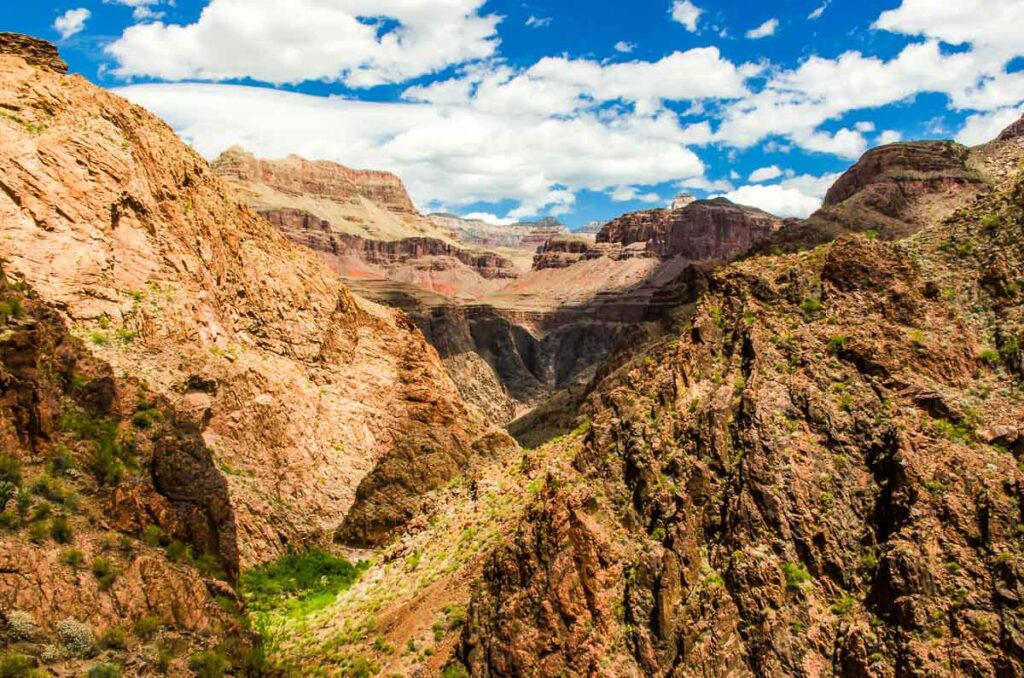 We hiked on at a level pace, passing through the Indian Gardens campground and beginning our final 3.5 mile descent to the Colorado River. Three miles from the canyon base, we came across a sign warning that a down-and-back hike should not be attempted in a day due to exhaustion, but we had come too far to turn back without seeing the river that cut such a massive expanse into the earth. Daniel, later regretting his comment, said something about the sign being for people who weren't young and in shape.
About two miles from the bottom, my right shoulder and Daniel's as well had nearly locked up from soreness, but we pushed on and arrived at the Colorado 3.5 hours after entering the canyon. It was a great feeling sitting on the rocks, eating lunch, and watching the mighty river rush by. It was a great feeling until we began looking back toward the Rim and thinking about the return back up.
Frequent breaks—including one long rest on an upturned wheelbarrow in a shallow cave—characterized the ascent back to Indian Gardens. The weight we were carrying nagged and slowed us more than ever. After resting on a bench in a crowded clearing near some too-bold squirrels, we refilled our water supplies and lumbered out of the camp towards the steep uphill climb out of the canyon.
I began struggling first on the way out. I knew how tired I was, and I made the decision to not push myself too hard. Instead I slowed my pace and began taking breaks again. Daniel and Peyton would move on and take longer breaks while waiting for me to catch up. Then Daniel, plagued with knee pain and hip pain that began on the trip down, started to hang back with me. Peyton was in the best endurance shape of the three of us, and we lost sight of him pretty quickly.
Daniel and I trudged headlong up switchback after switchback trying not to stare at the rock walls towering hundreds of feet above us. We kept an efficient system of pace where I would walk slower while he moved ahead; then he would have to stop and take a break. I caught up and took shorter breaks before we moved on to do it all again, over and over, for what actually was hours. Then, when we thought we were getting close, the Three Mile House showed up to tell us how we had not even hiked halfway from Indian Gardens.
I've blocked most of the rest of the hike from my memory, but I do know at one point, I saw Daniel swaying and his eyes shifting in and out of focus. I remember telling him to walk closer to the inner wall and stay away from ledges at that point. Then a mile from the top, a Good Samaritan stopped and gave us a Clif Bar (we had eaten all of our food), an energy gel, and a Gatorade. Those gave us enough of an energy boost to get to the Rim without another rest. We found Peyton waiting at the top—where he had been for about an hour and a half—with snacks from the gift shop. It took a total of 11.5 hours for Daniel and me to hike down and back, not including the time spent for lunch. We descended about 4,500 feet and ascended the same to get out. Needless to say, our bodies were wasted from exhaustion and sore for the next 4 days or so. Yet despite our poor planning and obvious ignorance about the difficulty of the hike, we made it and saw one of the most amazing landscapes in our country in the process.
To top things off, we checked out the visitor center the next morning and found a list of hikes and their difficulties. Just the hike down to the river was labeled as very difficult; down and up was labeled as "Not a day hike." Long story short, had we seen a sign at the top of the canyon warning against day-hiking the Bright Angel Trail to the river and back, we probably would have only gone a few miles and come back. However, thanks only to our ignorance and sheer determination, we now have this crazy adventure to remember for the rest of lives.