I can't fully describe the excitement I felt when the plane began descending, and through the clouds I could make out the distant mountains surrounding Anchorage. I'm getting chills and a sudden craving to return—a powerful magnet drawing me back—just from writing this. We landed sometime around midnight, but the sun was still out, settled just on the horizon line like a tiny, far-off ball crossing a tight rope, refusing to fall and allow darkness to take over.
Five-ish restless hours of attempted airport-bench sleep later we crammed into a taxi headed to the Anchorage Walmart which opened at 6:00 am. 40 lb packs in tow, we located bear spray, a backpacking stove, and fuel—the only things not allowed on the plane or checked baggage. After an initial fear of missing our bus to Denali, we arrived 15 minutes early. Failing to find an open coffee shop, store, or restaurant in the area, we boarded the bus eagerly but sleepily. Another five hours, featuring endless mountain views and broken up only by one stop at a lodge, separated us from Denali National Park and Preserve.
The boys and I stepped off the bus, caught our bearings, and found our way to the park's backcountry station. We watched the required video on bear safety and environmental stewardship (essentially "Leave no trace") and then repacked all our food in the park-provided beer cans. Wait. Bear cans. Beers and bears are a bad idea. Packs ready, we almost missed the last shuttle into the backcountry. We hastily bought our tickets and scrambled onto the bus, feeling exhilaration replace our rushed anxiety.
An hour or so and a little park history later, we stepped off our second bus of the day and watched it drive away. Then, turning toward Cathedral Mountain and our backcountry unit, we walked into the sparse brush. Denali has very few developed trails, so most backpacking in the park is through "untouched" wilderness. We hiked for several hours through spongy moss and scattered trees with questionable visibility, yelling "HEY BEAR" most of the way to avoid any grizzly surprises. The trek was tough, especially with 40-50 lbs on our backs, but we eventually came to the Teklanika River and found a way down the small bluffs to its banks. This river would provide a point of reference for the rest of our Alaska adventure.
Crossing a braided stream like the Teklanika can be a challenge, and a frustration. While some braids were shallow and slow, at least three or four were close to knee deep and flowing swiftly. These rapid-filled braids required some teamwork, the three of us crossing in line parallel to the stream. Daniel bore the brunt force upstream to break the current while Peyton and I provided support. There were some sketchy moments when the river threatened to drag us down and pull us into its rush. We didn't fear serious injury or drowning, but any fall meant we would have to deal with soaked clothes and packs which would make backpacking unbearable. Wet socks and boots that never dried out were bad enough.
We picked a flat and relatively rock-less spot to pitch the tents; then we stepped off a hundred yards downwind to mark our cooking spot. Another hundred yards away we marked a place for food storage. This is all a system taught by the park and by Stephen Herrero's Bear Attacks: Their Causes and Avoidance to keep bears away from the tents. We cooked, ate, put away our food, and hung up wet clothes on scraggly little bushes in a futile attempt to dry them. By the time we went to sleep, it was nearing 1:00 am, and the sky was still bright in early twilight.
Day two in Denali started at about 9:00 am after the best 8 hours of sleep I had on the trip. Freeze-dried breakfast would do for fuel. Thoroughly awoken from the unpleasantness of wet boots, we set out on a day hike up the Teklanika to a distant foothill we planned to climb. I have no words that can truly communicate the sheer majesty of the surrounding snow-capped mountains, mystic alpine forests, and winding glacial streams of the Denali backcountry. No trails, no sign of human presence mar the landscape. As I said in an article for Travel Channel about Denali, "No amount of day hikes or manmade hiking trails can compare in wonder to the vast wilderness and profound solitude of the Denali backcountry."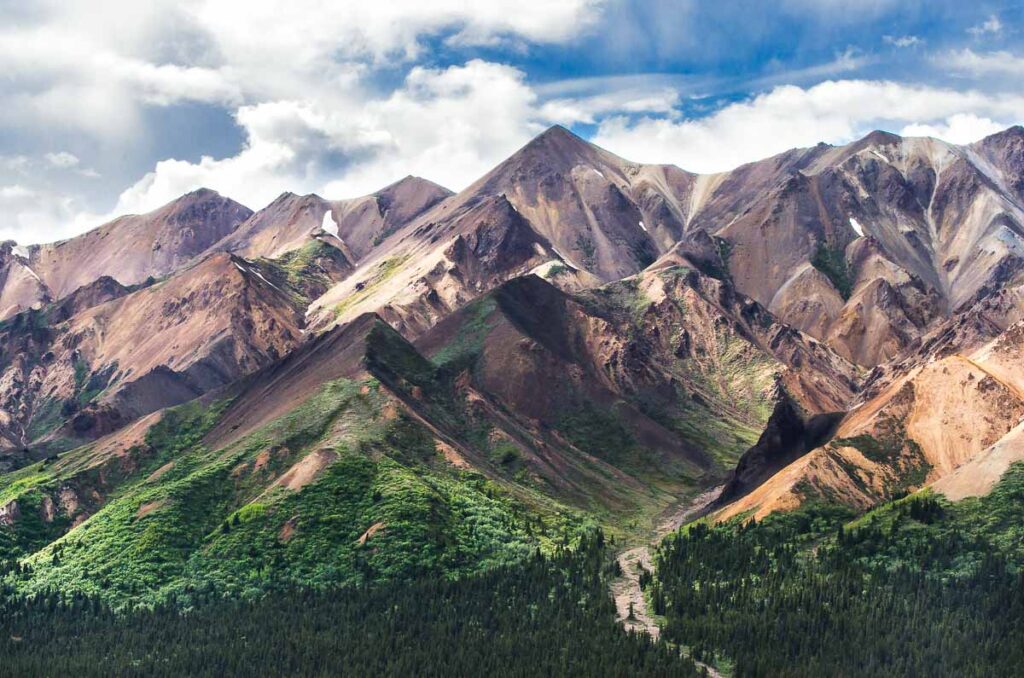 We experienced this solitude and wonderment along our trek to the distant hill with many river crossings, forest game trails, and abundant signs of wildlife. Boot-sized wolf tracks and bear prints could be found every few hundred yards. The day waxed late when we finally arrived at our destination, so we climbed half the hill, about 600 ft. up, and rested. After the two mile hike back to our campsite, we watched some passing caribou lumber alongside the far stream-bank while eating our supper.
Due to unexpected bus scheduling complications we had to leave the backcountry a day early, so we played tourist on our last full day. We packed up and hiked out to the Teklanika River Bridge where an inbound bus picked us up. We rode to the Eielson Visitor Center to check out some park history and watch a short film about climbing Denali. Sadly, cloud cover obscured the mountain the whole time we were there, but that's just another reason to go back. From the bus we spotted Dall sheep, moose, caribou, and a huge brown bear who hijacked the road from us for a short stretch.
When, exhausted, we finally arrived back at the park entrance we paid for hot showers and bought a campsite at the nearby developed campground. Then we settled into our tents for a rainy night. I was sad to leave the next day and dreaded the last remaining bus ride back to Anchorage. This was the beginning of the end of the road trip. We were officially homeward bound.