Where do you want to go for vacation? Ask a hundred people this question, and you may receive as many answers. But I would bet few if any would say "the desert." Why? Because deserts are desolated, isolated wastelands? Maybe that is the exact reason you should visit a desert, at least for a day and a night. The guys and I will always remember our stay in the Mojave Desert as one of our favorites from the entire road trip!
Arriving in Baker, California late in the afternoon, we filled up on ridiculously overpriced gas and set about finding a place to crash for the night. We picked out a little spot near the granite spires about 50 miles south of Baker on Kelbaker Road, a rough highway straight through the desert that probably never sees much traffic. Windows down, music blaring, eyes peeled for tortoises—there were flashing signs requesting the latter—we cruised through the Mojave watching the sun sink as we approached an area we hoped would provide a good campsite. Nearing sundown we picked a dirt road, and drove down it until we found a suitable area partially concealed from the road with no vegetation where we could pull over and set up camp. Four-wheel-drive vehicles are recommended for these roads, and we soon found out why. Luckily it only took a little pushing and some well-placed rocks under tires to get the truck moving through the sand.
Seeing an opportunity after we parked, I immediately set my bike up and tried riding around the area. While the loose sand was impossible to ride, the road provided a somewhat stable surface for the large mountain bike treads. It was still slippery, in some places more than others, and provided a fun little challenge for higher speed downhill sections of the road where I often ran into patches of sand that tried to spin my tires out from under me and send me spiraling into the cactus-filled brush lining the road. Knowing that dark was falling, I peddled back to the truck to shoot some obligatory sunset photos and help make camp.
As dark began to set in, we realized it wasn't the intense darkness that we had expected, and few stars were becoming visible. To the south we noticed a bright glow, vocalizing that it was probably a little town that put off enough light in the dark desert to be seen. Then, the brightest full moon I've ever seen crept over the horizon line and began rising at such a pace that we could actually see it moving. The amount of light reflected by that full moon was astonishing. It blocked out all but a few of the brightest stars and provided light for us to easily explore the area without flashlights. We hiked down the dirt road toward looming hills surrounded by shrubs and short cacti shrouded in shadows. The eerie experience could not be duplicated in any other environment. Alone in the desert, we strode along for hours without another soul around for miles except the occasional car we witnessed passing by on Kelbaker Highway.
For me, the isolation created an introspective mood, giving me a greater inner connection to the life around me. The life that thrives in the desert is different from what most of us are used to. There were no bright greens and yellows that we love so much in deciduous forests and the pastures that speckle them. No deep, rich, black soil. No towering, majestic evergreens. No deep blue lakes. Yet there was still life, stripped to the dull greenish gray necessities and fighting with all it could muster just to survive. There is something beautiful about that natural struggle. It encompassed the universal conflict of life against death without any distractions, and it highlighted that even in some of the most barren environments, life can prevail.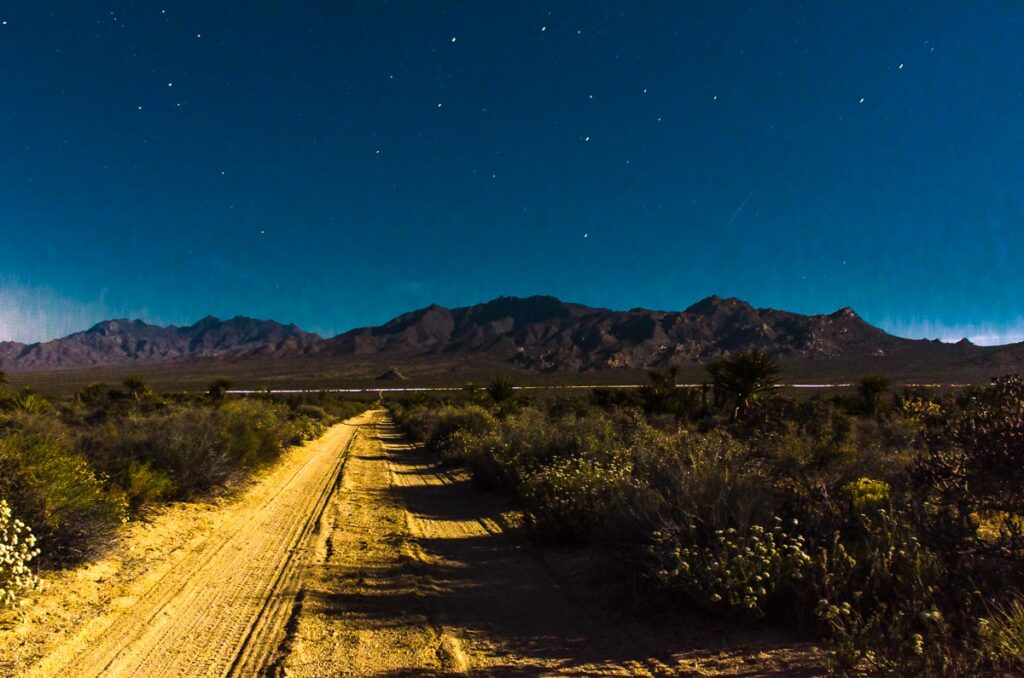 Between midnight and 1 a.m. we arrived back to our camp to get some sleep before the next day's drive. After waking up to the heat of the sun on our tents, we made breakfast and coffee. Still sore and stiff from our Grand Canyon hike, Daniel, Peyton, and I elected to work out the soreness with a bike ride, so we peddled as far down the dirt road as we felt comfortable and cruised back. We rode on the highway some too, giving me the idea of going back one day for a cycle trip down one of the desert highways. I was a little sad to leave the Mojave after spending so little time there, but at the same time I was excited for our upcoming two night stay in Santa Barbara.