After a morning mountain biking through Northern California's mighty Redwoods, the guys and I embarked on one of our most anticipated sections of the entire road trip. High hopes for the roads, beaches, and adventures awaiting us on the Oregon coast rattled around in our heads. Giant, rocky sea stacks; vibrant sunsets; and soft, rich sand beckoned.
The first essential factor to success on the Oregon coast was finding a camping spot on the beach. There are numerous state parks along the Pacific Coast that offer nice camping, but we wanted that rugged feeling only achievable by pitching our tents along some wild, secluded stretch of beach. Because we were driving a massive truck, stealth camping wasn't exactly an option, so we researched coastal camping before the trip. It's rumored to be fairly easy to plop down on the beach for a few nights in Oregon due to their public beaches law. However, we discovered the fine print actually makes this difficult to properly accomplish.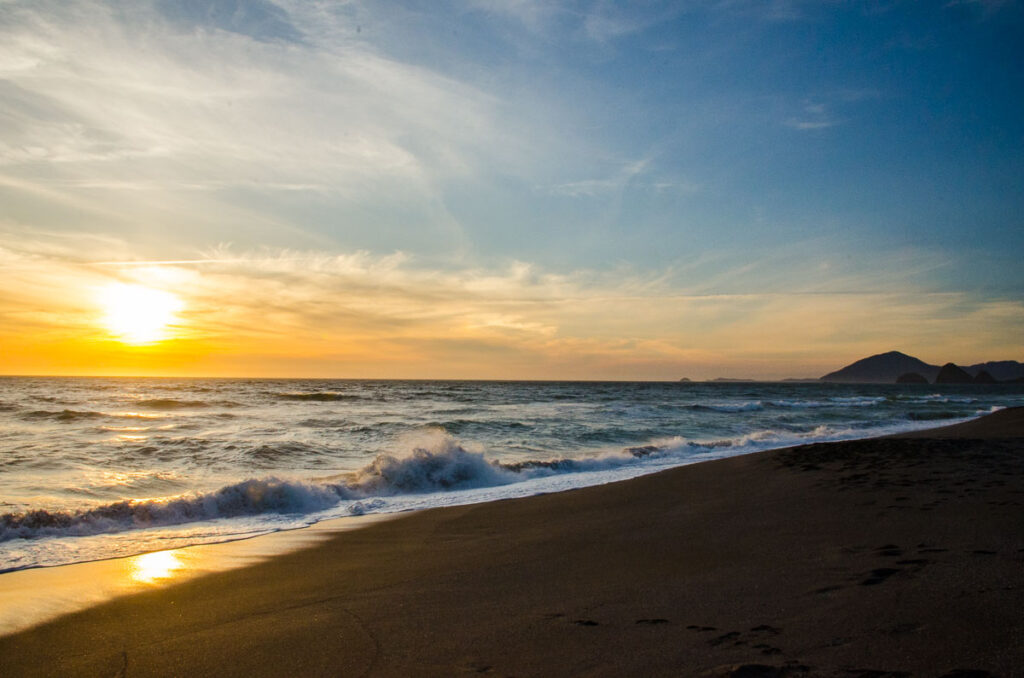 To abide by Oregon's laws, the campsite should be one mile from the city limits of any town and out of site from any building. It's also illegal to camp in state parks outside of the developed campgrounds. The Oregon coast is a pretty popular area so finding a place outside of state parks and away from towns with no visible houses proved nearly impossible.
Still, after driving for the entire afternoon, intensely probing google maps, and making several U-turns, we found the perfect spot! A gravel pull-off from the highway revealed a small trail down a steep, red-clay bluff to a wide beach stretching about 100 yards to the breaking waves of the ocean. The nearest town, Ophir, was about a mile and a half away. We took some liberties regarding buildings by making camp right under the bluff, so that no houses could be seen. Fifty feet closer to the waterline we could see at least 3 houses in the hills behind us.
We settled in for an extremely windy night with a small fire, camp supper, and some fresh green tea. Then, the Pacific Ocean offered up possibly the most beautiful sunset I have ever seen. For almost an hour, Peyton and I sat on logs at the top of a steep incline leading into the sea and watched the sun slowly sink beyond the horizon. Waves as tall as men crashed into the shore before us, and playful gulls soared overhead.
Such a view is hard to beat, but I wish I had better words to describe the star-specked sky that followed the sunset. Miles from any large light source, I sat outside in the night alone with my cameras and tried to capture what I saw. A more experienced night photographer would have done better, but my photos at least remind me of that sublime moment when a multitude of twinkling stars illuminated our tents against the sand and shimmered off wispy grasses that swayed in a strong land breeze rushing back to meet the sea.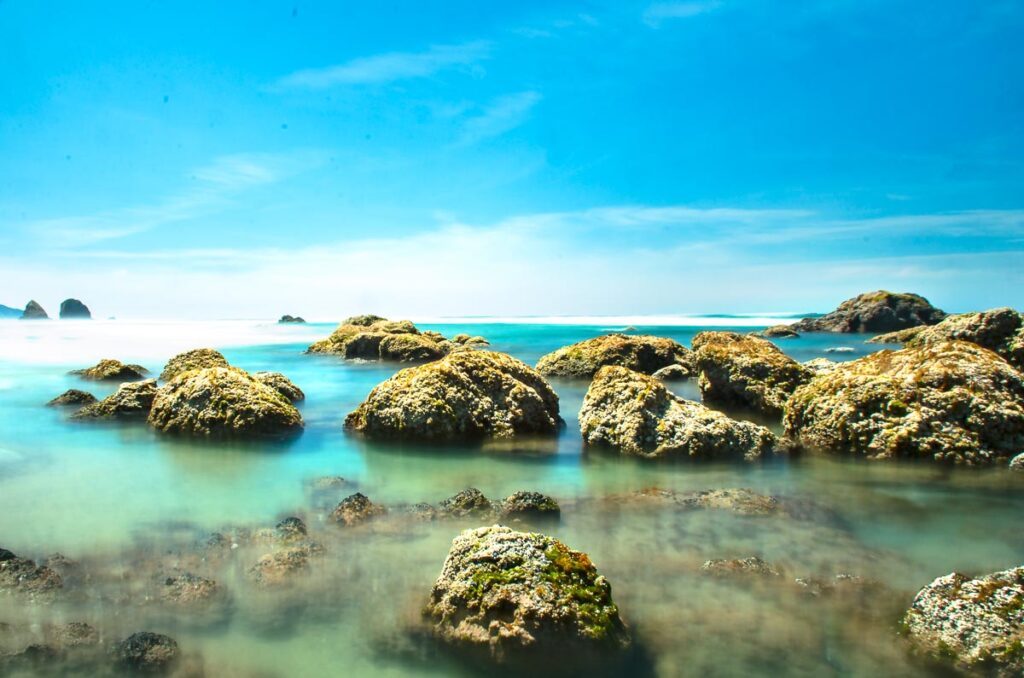 The next day I slammed back to earth with the realization that I locked the keys in the truck the night before. A quick call to AAA and 45 minutes of hoping the locksmith could find us had us on our way. That day we visited the beautiful Cannon Beach and took a detour to a hidden gem accessed only by some winding backroads. The name of the place escapes me, but the beach sprawled out between two cliffs baring tall evergreens and featured a massive sea stack just off-center. We watched the tide roll out for a while before focusing our attention on finding a place to sleep that night. Having already discovered that finding beach camping was not so easy, we settled for a nice developed campground a few miles inland that had vacancies, showers, and laundry machines. We spent a chill night with a warm fire and plenty of conversation. The next day we would drive to Portland, a top contender for my favorite city on the road trip.